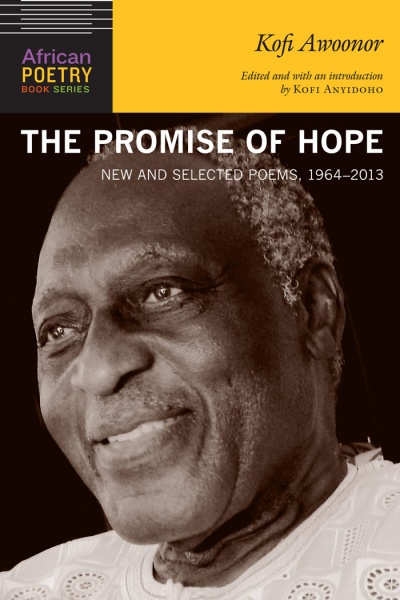 We are saddened to announce the passing of distinguished poet and novelist Kofi Awoonor. He died in the terrorist attack by al-Shabaab militants at the Westgate shopping mall on 21 September 2013 in Nairobi, Kenya.
Born George Awoonor Williams on 13 March 1935 in Wheta, the southeastern part of Ghana, Kofi Nyidevu Awoonor was a diplomat, a professor of comparative literature at numerous universities, and recently retired from teaching full-time in the Department of English at the University of Ghana.
He published several volumes of poetry, including Rediscovery and Other Poems (1964), under his initial name George Awoonor Williams, Night of My Blood (1971), Ride Me, Memory (1973), The House by the Sea (1978) a product of his time as a political prisoner without trial, and The Latin American and Caribbean Notebook (1992). His collected poems (through 1985) were published in Until the Morning After (1978). He also published two novels This Earth, My Brother (1971) and Voyager at Last (1992). He studied at the University of Ghana, Legon; University of London, UK; and SUNY in the US.
A state memorial service will be held on 11 October and a final laying to rest on 9 November 2013 in his hometown, Wheta, Ghana. He is survived by his wife and six children.
For more info on his life and writing, see the following links:
Soyinka, Clark, Osofisan and other Nigerian writers mourn Awoonor:
A recording of Kofi Awoonor reading his poetry on the BBC 
Telegraph http://www.telegraph.co.uk/news/worldnews/africaandindianocean/kenya/10326144/Kofi-Awoonor-Ghanaian-poet-killed-in-Westgate-Attack.html
New Yorker http://www.newyorker.com/online/blogs/books/2013/09/i-will-say-it-before-death-comes-the-murder-of-kofi-awoonor.html
Wall Street Journal http://blogs.wsj.com/speakeasy/2013/09/22/poet-kofi-awoonor-killed-in-terrorist-attack-at-nairobi-mall/
University World News http://www.universityworldnews.com/article.php?story=20130927152254942
The Guardian http://www.theguardian.com/books/2013/sep/28/kofi-awoonor-nii-parkes-hero
The Guardian http://www.theguardian.com/world/2013/sep/23/kofi-awoonor
Kofi Awoonor, Guardian Of The Sacred Word By Niyi Osundare
Awoonor's new collection, The Promise of Hope: New and Selected Poems, 1964–2013, to be released in 2014 by the University of Nebraska Press and Amalion Publishing